SPEEDWRAP® Cord Connector™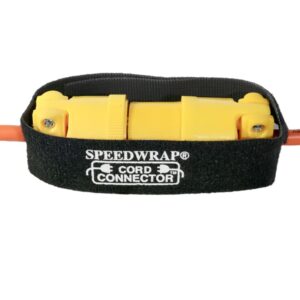 SPEEDWRAP® Cord Connector™
The SPEEDWRAP® Brand Cord Connector™ is an innovative and practical solution to that age-old problem of power cords accidentally getting unplugged. The Cord Connector™ connects two extension cords together or power tool cord and extension cords together, preventing them from accidentally pulling apart.
Device to keep extension cords together
Electric extension cord connectors / Electric cord connector
Power cord connectors
Connecting two extension cords
Popular uses of the Cord Connector™ include:
Construction sites
Use with power tools
Shop Use
Audio and Video, including stage use
Connecting an extension cord to a leaf blower, weed wacker, trouble light
Made from a UL® Recognized Material, this specially designed hook and loop fastener is lightweight but rugged which makes it ideal for construction, automotive, electrical, marine, and other applications.
UL® Recognized Material
Cord Restraint Device 10MN
Flame Rating 94-V2
READY TO ORDER?
View the More Information Tab below to learn how to order online 24/7.
Or you can call us directly at (800) 771-3896 to get started.
The fabrication of SPEEDWRAP® Brand Fasteners is performed at our ISO 9001:2015 Certified Factory located in Racine, Wisconsin.
Construction
Transportation
Lawn & Garden
Garage
Automotive
Marine
Music
Recreation
UL® Recognized Material
Cord Restraint Device 10MN
Flame Rating 94-V2
Standard 1/pack in black.
Fits most standard size extension cord ends.
HOW TO ORDER HOOK & LOOP CABLE TIES?
You can either call us directly at (800) 771-3896 or you can order now on our online store by following the steps:
Step 1: Start the process by scrolling below to our chart and find the product you want to order.
Step 2: Click on the "Order Online" button on the right side of the chart for the corresponding product.
Step 3: A Speedtech team member will contact you to confirm your order is approved and confirm the lead time.
Electric Extension Cord Connectors
Finally, a practical solution to that age-old problem of electric expansion cords and power cords accidentally getting unplugged!
Have you ever climbed up a ladder, prepared yourself to begin working, only to click the power switch, and have nothing happen? This problem is an all-too-common occurrence for contractors frequenting ladders. The solution? The SPEEDWRAP® Cord Connector™.
How To Tie Extension Cords Together?
Answer – Don't!
At Speedtech, we never recommend tying extension cords together because you can damage the cords, and cause electrical hazards. Having a device such as our Cord Connector™ gives a great chance that the extension cords will not be damaged, accidentally come apart, or other similar problems. 
Power Cord Connector
Your power cord connector connects two extension cords together, or power tools to extension cords. It's a slim, lightweight, and easy-to-use solution. Applications include electrical, construction, Lawn & Garden, Garage, Automotive, Marine, Music, and more.
UL® Recognized Material
Cord Restraint Device 10MN
Flame Rating 94-V2
The fabrication of SPEEDWRAP® Brand Fasteners is performed at our ISO 9001:2015 Certified Factory located in Racine, Wisconsin
| Part Number | Description | Width | Length | Color | Packaging | Order Online |
| --- | --- | --- | --- | --- | --- | --- |
| SWCC-2View More | SPEEDWRAP® CORD CONNECTOR-TWIN PACK | 1.5 | 12.25 | BLACK | 2 | Order Online |
| SWCCXL | EXTRA LONG SPEEDWRAP® CORD CONNECTOR-15" | 1.5 | 15.25 | BLACK | BULK | Order Online |